Hello everyone! So, today I am going to be showing you the books that I bought in October as well as the two books I checked out from the library and one book that I got free from the author for review. I did pretty well this month considering I went on holiday to the UK (which is when I buy the most books). I have nine books to show you not including library books so let's get started!
---
HALF BAD BY SALLY GREEN
This is a book that I bought in the airport on my way book to Germany from Scotland. I had heard a lot about it and I wanted to buy a book, because that is like a tradition in airports for me, especially if my mum isn't there to reign me in…
Half Bad is the first book in a series about a witch who is good and bad but that is about all I know. It seems interesting and isn't very long so hopefully I will get to it soon but I am not sure.
---
warbreaker by brandon sanderson
I bought this book in Waterstones whilst I was Christmas  and birthday shopping for myself with my  Gran (my paternal grandmother). I have already read this book and absolutely adored it. It is one of my new favourite books.
Warbreaker is the first book in what I believe is supposed to be a duology. Unfortunately, we might have to wait a while for the second book because Brandon Sanderson has announced that the sequel, Nightblood, is 'on the backburner' and that we'll have to wait for other books to be released first. In the meantime, I will have to get my hands on some more Brandon Sanderson books.
---
ZEROES BY SCOTT WESTERFELD, MARGO LANAGAN AND DEBORAH BIANCOTTI
I also bought this book when Christmas shopping with my Gran. I thought it sounded interesting and i used it to get another book half-price, which you won't see here because my Gran wrapped it up as a Christmas present.
I can't actually remember anything about this apart from the fact that there are some sort of super-human kids and then another super-human kid. Yeah, I know- amazing description. I am 'currently reading' Uglies by Scott Westerfeld so it will be a while until I get to this one because I don't like reading multiple books by the same author set in different worlds etc. close to each other.
This book is YA Fantasy/Science Fiction (I'm not sure which). This is the first and only book in a trilogy.
---
THE JUST CITY BY JO WALTON
This book is an adult fantasy novel and the first book in an incomplete trilogy (the expected publication date for the last book is 2016).
Okay, I bought this book because it was face out on the shelf in Waterstones and looked cool and also because the blurb is amazing. Like seriously, seriously cool. Unfortunately, despite my attempts to include the blurb here, I cannot and the one on goodreads is different, so you'll just have to take my word for it.
---
THE MARTIAN BY ANDY WEIR
I bought this book in the Edinburgh train station because I want to watch the film and my dad offered to give me some money for a book. This is an adult science fiction novel.  I will try to read this before the film comes out on DVD.
My inspiration for buying this book was a conversation I had with the son of my uncle's girlfriend, Adam, at my Grandpa's 80th Birthday Dinner, about how much he enjoyed the film. (I hope that sentence makes sense. I am typing this with a half-asleep brain and I have eaten way too many treacle scones and chocolate-chip fairy cakes today.)
---
life and death by stephenie meyer
Now we are getting into the books that I ordered off of Amazon. This book was released recently. It is a retelling of Twilight in which the gender roles are flipped (apart from Charlie and Renee). It is also written as a standalone. I will talk more about what I liked in my wrap up. All I will say is this: if the Bella annoyed you but you liked Twilight for the most part, give this a go. This book came in the 10th Anniversary Edition of Twilight (it is a double book where you flip it around to get the other story).
---
CARRY ON BY RAINBOW ROWELL
Another new release that I bought and read this month. I absolutely adored this book. I also reviewed it, so if you would like to see the review, click here.
This is a YA fantasy novel. Whilst it is based on the fan-fiction from Fangirl it is a totally separate, amazing story and I am pleased to say that Rainbow Rowell is just as good at writing fantasy as she is contemporary. Also, the hardcover of this book is gorgeous and comes with a attached bookmark ribbon thing.
---
THE HEART OF BETRAYAL BY MARY E. PEARSON

I won't say much about this because it is the second book in the Remnant Chronicles and I don't want to spoil the first one. I have not yet read this book, either. It is a YA fantasy.
There will be a total of three books in the Remnant Chronicles. The third book is called The Beauty of Darkness and will be released in 2016. Also, I would like to just say that the covers for these books are gorgeous.
---
MAGNUS CHASE AND THE SWORD OF SUMMER BY RICK RIORDAN
This is the first book in the new Rick Riordan series about Norse gods. I have already read this book and really enjoyed it. I am eagerly anticipating the next book in the series.
This is a upper middle grade fantasy novel. As usual, the mythology is spot on and Rick Riordan has obviously done his research.
---
ESCAPE FROM WITCHWOOD HOLLOW BY JORDAN ELIZABETH



I am currently reading this YA fantasy novel and enjoying it. It is, from what I can gather about a girl who moves to the countryside with her brother, Aunt and Uncle after her parents die and gets caught up in a local legend. Beyond that, I do not know what this book is about.
I received this book for free from the author in exchange for an honest review. Expect said review before the end of November.
---
As for the books I checked out from the library…
A STORM OF SWORDS: STEEL AND SNOW BY GEORGE R.R. MARTIN
I checked out part one of A Storm of Swords. I have this book on my Kindle but I have liked having the physical copies to read of these books. Also, I only have the full story on my Kindle and to motivate me to read this and not put myself into a reading slump even bigger than the one I am currently in, I want to treat the two parts as separate books.
This is an adult fantasy and is the third book in the Game of Thrones series.
---
WICKED LOVELY BY MELISSA MARR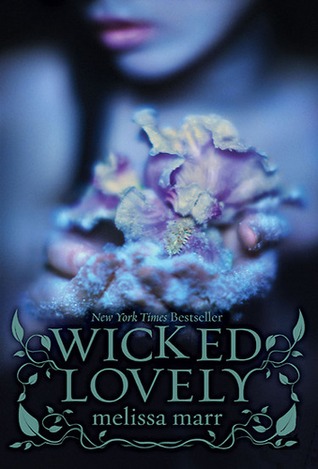 I picked this book up out of the library on a whim because I remember having a book in the middle of the series on my Kindle at one point and also because I read the blurb and it mentioned fae, something which I am loving at the moment. This is a YA fantasy novel and the first book in a series.
---
That is it for now. I hope you enjoyed. I will post my November TBR tomorrow and my October Wrap Up in the next few days as well. Happy reading, Rogan x