Hello everyone, I was unofficially tagged by Cristina @My Tiny Obsessions (she tagged everyone and I decided to do it) to do this tag. Basically, what you have to do is take some books that you know little or nothing about and try and guess what they are about from the cover. So without further ado, let us begin!
#1: If You Could See Me Now by Cecelia Ahern
My Hypothesis:
This is about childhood friends who grow apart and meet again as adults and are completely different people or perhaps a young adult with dead parents who has done some regrettable things, is in a bad place and is reflecting back on her life. And maybe also about wishes or running out of time because of the dandelion clocks on the cover.
Actual Plot:
"What if love was right there in front of you- you just couldn't see it?"
Elizabeth Egan is too busy for friends. As a reluctant mother to her sister Saoirse's young son Luke and with her own business to run, every precious moment is made to count.But with Saoirse crashing in and out of their lives, leaving both her sister and her son reeling, Luke and Elizabeth are desperately in need of some magic. Enter Ivan. Wild, spontaneous and always looking for adventure, in no time at all Ivan has changed Elizabeth in ways she could never have imagined. But is Ivan too good to be true? Has Elizabeth opened her heart only to risk it being broken again? As for Ivan, he thought he was there to help Luke not Elizabeth- or himself?
Conclusion:
I mean…. it is about relationships between characters? Who am I kidding, I was way off. It sounds pretty spectacular though. Also, I do actually own all of the books I am talking about in this post.
#2: A Darker Shade of Magic by V.E. Schwab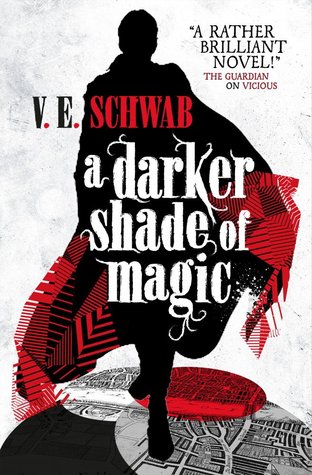 My Hypothesis:
I think that this book is probably about a mysterious man with a patchwork cloak who walks in the shadows at night in a city and practices dark magic but isn't as bad as he seems.
Actual Plot:
Kell is one of the last travellers- magicians with a rare ability to travel between parallel universes connected by one magical city. There's Grey London, without magic and ruled by the mad King Geroge III. Red London- where magic is revered and where Kell was raised alongside the heir to the empire. White London- where people fight to control the remaining magic and magic fights back. And once there was Black London…
Officially Kell is the Red traveller, carrying letters between the monarchs of each London. Unofficially he is a smuggler, a defiant hobby with dangerous consequences. His escape to Grey London leads to a run-in with Delilah, a cutpurse with lofty aspirations, who forces Kell to take her on a proper adventure. But perilous magic is afoot and an adventure becomes a mission to save all of the worlds.
Conclusion:
I did better this time, though I was still way off. I got the city part right, and the two-sided personality and magic (also dark magic is kind of akin to controlling or distrust of magic) but I was still way off about the actual storyline.