Hello, so as promised, here is a book recommendation! All of these books are fantasy (my book recommendations have themes; my last one was 'books for different ages'). Some of them are popular and some of them not so much but all of them are great. Also, all of these books are either YA or Middle Grade but perfectly enjoyable for adults as well!!! If you want to learn more about what I think on that topic take a look at my Top Ten Tuesday post here. I hope you enjoy and let me know what you think about the books. Love, Rogan x
Book 1: The Cat Kin by Nick Green
This is the first book in a duology about humans who connect with their inner cat. I love the characters and adventures in this series and the second one is even better than the first. If you do like this one you might also like The Fabulous duology (Seven Sorcerers and Shadow Spell) by Caro King.
Everyone who came across the strange gym class was looking for something else. What they found was Mrs Powell – mysterious Mrs Powell with her silent feet, unnerving stare and merciless warm-up exercises. What they found was pashki, a lost art from an age when cats were worshipped as gods. But Ben and Tiffany wonder: who is their eccentric old teacher? What does she really want? And why do they suddenly seem to be able to see in the dark? For readers aged 10 to adult. (taken from goodreads)

Book 2: The Queen of the Tearling by Erika Johansen
This is the first book in a trilogy (I think it's going to be a trilogy) about a queen who has the weight of a utopian society falling to pieces on her shoulders. I love the interesting relationships and social dynamics in this book and the reflection of some elements from the real world into this dystopian fantasy.
It was on her nineteenth birthday that the soldiers came for Kelsea Glynn. They came to escort her back to the place of her birth- and to ensure she survives long enough to take possession of what is rightfully hers. But like many nineteen-year-olds, Kelsea is unruly, has high principles and believes she knows better than her elders. Unlike most nineteen-year-olds, she is about to inherit a kingdom that is on its knees- corrupt, debauched and very dangerous. Kelsea will either become the most fearsome ruler the kingdom has ever known…or be dead within the week. (taken from the back cover)
Book 3: DarkIsle by D.A. Nelson
This is the first book in a trilogy about dragons and rats and extinct birds and warlocks and evil castles and mysterious rocks. I love the main character in this book, she is quite original and the characters are varied- some horrid, some hilarious.
Ten-year-old Morag is being held prisoner. When a dodo and a rat accidentally rescue her, she is drawn into their dangerous and life-threatening mission to retrieve an ancient stone used to protect their northern homeland. (taken from goodreads)

Book 4: The Wrath and the Dawn by Renée Ahdieh
This is a trilogy based off of the story A Thousand and One Nights with breathtaking scenery, a heart-warming romance and a whole lot of conflicting emotions.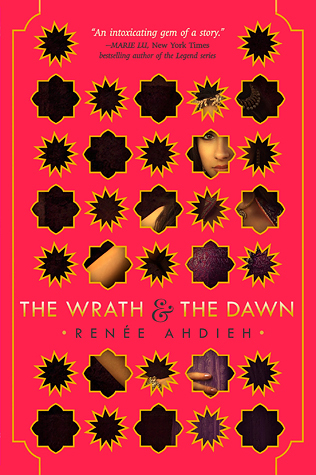 In a land ruled by a murderous boy-king, each dawn brings heartache to a new family. Khalid, the eighteen-year-old Caliph of Khorasan, is a monster. Each night he takes a new bride only to have a silk chord wrapped around her throat come morning. When sixteen-year-old Shahrzad's dearest friend falls victim to Khalid, Shahrzad vows vengeance and volunteers to be his next bride. Shahrzad is determined not only to stay alive, but to end the caliph's reign of terror once and for all. (taken from the inside flap- cut short because it says too much as blurbs so often do)
Book 5: Abandon by Meg Cabot
This is the first book in a trilogy based off of the Greek myth of the Seven Pomegranate Seeds (more commonly referred to as the myth of Persephone and the Underworld). It is full of romance, humour and defiance and is a fun fantasy read that touches on some serious topics.
Pierce knows what it's like to die, because she's done it before. Though she tried returning to the life she knew before the accident, Pierce can't help but feel at once a part of this world and apart from it. Yet she's never alone…because someone is always watching her.

Now she's moved to a new town, but even here, he finds her. Pierce knows he's no guardian angel, and his dark world isn't exactly heaven, yet she can't stay away…especially since he always appears when she least expects it, but exactly when she needs him most.

If she let's herself fall any further, Pierce may just find herself back in the one place she most fears: the Underworld. (taken from the back of the book.)