Hello, so I saw this over at Beatrice's blog DreamlandBooksBlog and thought it looked cool so I'm going to do it (also, I discovered it when it was just posted but I pre-wrote this to go up whilst I'm away on a school trip. I will be in Austria when you see this!).
Describe your bookshelf and where you got it from…
My bookshelves are from Ikea and they're just white with 6 shelves a case. Also, I just want to say that they're emptier than normal because I have about 20 books off of the shelves for another tag and also, the lighting is bad as is the angle- this was the only way I could fit both of them in properly-ish.
How do your organise your bookshelves?
In all honesty, I will write this now and in approximately less than a day it will be out of date. Once, I rearranged my bookshelves four times in one day. For fun. It's my go to thing to do if I'm in a reading slump or if I need inspiration/motivation to write posts or a chapter of one of the books I'm writing (yes, books plural). At the moment, though, I organise them the same way I organise my Kindle:
Archived Items (aka, books I didn't really like as much but still want to keep for whatever reason) (organised randomly)
TBR (organised by author)
Books that I have one physical book and the rest kinde (it is flipped for my kindle- one kindle, rest physical) (organised by author)
Books that I just have the first book in the series and do/probably do want to get the rest of the books for. ( organised by author)
Books that I have one book in the series (not necessarily the first) but I do not plan on getting the others. (organised by author)
Standalones (organised by author)
Series (organised alphabetically by the name of the series)
What's the longest book on your shelf?
This is my Collins German Dictionary which translates English words to German and vice versa. With a length of 2108 pages, it is the longest book on by shelf.
What's the shortest book on your shelf?
Toot and Puddle, a children's picture book, comes in as the shortest book on my shelf with a total of 29 pages.
Is there a book you received as a birthday gift?
I received Masquerade by Melissa de la Cruz from my grandparents for my past birthday!
Is there a book from a friend on your shelf?
The answer to this is no. Generally speaking, I don't tend to borrow books from my friends unless they were the one who recommended it. A few months ago, I did borrow The One, The Prince & The Guard as well as The Heir by Kiera Cass from a friend because I didn't want to buy the rest of the books and I will likely continue to do this with the rest of the series.
The Most Expensive Book on Your Shelf?
I honestly have no idea. I would have to say either my copy of Peter Pan and Wendy by J.M. Barrie, my original copy of the Adventure series from the mid 1900s by Enid Blyton or one of my many, many dictionaries. Above is a picture of my copy of Peter Pan and Wendy.
The Last Book You Read on Your Shelf
It's actually on my Kindle, which is on my shelf but Blood Moon by Jody and Jayme Morse.
Do you have any completed series?
Yes, I have many. More than you see here but the others are on my kindle, at least partially, so I'm not showing you them.
Percy Jackson and the Olympians by Rick Riordan: 5 Books, 1 Companion
Adventure by Enid Blyton: 7 Books
The Fabulous by Caro King: 2 Books
The Hunger Games by Suzanne Collins: 3 Books
The Cat Kin by Nick Green: 2 Books
Partials by Dan Wells: 3 Books
Daughter of Smoke and Bone by Laini Taylor
The Dark Is Rising by Susan Cooper: 5 Books
Shatter Me by Tahereh Magi: 3 Books, 2 Novellas
Breathe by Sarah Crossan: 2 Books
Twilight by Stephanie Meyer (German): 4 Books
Twilight by Stephanie Meyer (English): 4 Books
The Roman Mysteries by Caroline Lawrence: 17 Books
What is the newest addition to your shelf?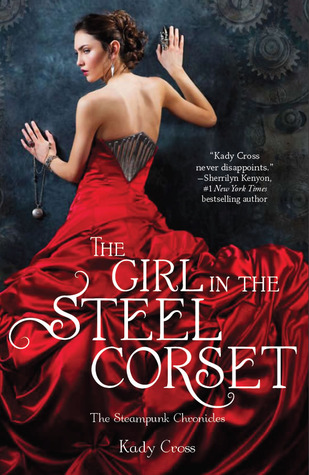 The Girl in the Steel Corset by Kady Cross.
What is the oldest book in your shelf?
My grandfathers copy of Treasure Island by Robert Louis Stevenson, gifted to him in 1937.
A Book You Would Never Lend Out to Anyone
The Adventure Series by Enid Blyton or Treasure Island because they are really fragile. Also, Fairy Tales retold by Bridget Hadaway.
Same answer as above or perhaps Over Sea, Under Stone by Susan Cooper.
I swear, I'm not this horrible to my books. It wasn't perfect when I got it was second hand and it also came in a box. And I used to keep it in the box (I have sine learned that this causes frustration and damage to books due to jamming the book in).
I read this from the library originally and I've not opened (unlike my TBR books which I often thumb through) so it is in immaculate condition.
A book that doesn't belong to you.
This is my mum's but I am probably going to just not give it back… she tends not to re-read books anyway and she can always get it from my shelf. She won't miss it- I've taken many books from her shelf in the past (Twilight, Lament, The Boy In The Striped Pyjamas and a few others).
A book that is your favourite colour.
I couldn't find a lilac book (my #1 favourite colour) and cream is too easy so let's go with pale blue (which is also pretty easy). My 35th Anniversary Edition of Watership Down by Richard Adams is gorgeous, wouldn't you agree?
The TBR Book that has been on your shelf the longest.
I have two answers to this: Bree McCready and the Half-Heart Locket by Hazel Allan as well as Die Nacht der tanzenden Sterne by Beth Webb both of which have been on my shelf for about 5 or six years. Bree McCready and the Half-Heart Locket (I just found out I've been spelling that wrong…) I started and never finished and is part of a series. Die Nacht der tanzenden Sterne is the first book in a series translated from English in to German.
Of all of the books on your shelf which was the first book you ever read?
I don't know the answer to this but I can tell you all of the words on one of the first books I read ever (like, I was under a year old). I can't tell you the name though, because I have no idea what the book was called. The page said…
Can you swim? Yes. Are you a duck? No.
A few, but none because of me. My uncle got them signed for me.
DarkIsle by D.A. Nelson. This is personally signed and I love the duology. I also have the uncorrected bound proof.
Bree McCready and the Half-Heart Locket by Hazel Allan. Yep, it's signed and I haven't read it…
Lee's Holiday Showdown by Keith A. Charters. I can't remember whether I read this one. I might read it in the future if I feel like it but I have no current plans to do so and I do not classify it as a TBR Book. I have three books in the series (well, had. I lost the second book in a move- I had read it though) and they're all signed. The books are like companions to each other- same characters, different stories.
This is the first book in the series: Lee and the Consul Mutants by Keith A. Charters. This is signed personally to my whole family.
And that is the Bookshelf Tag. This is an older one, but I know (according to her search bar) that Cristina (@My Tiny Obsessions) has not yet done it, so I tag her. And you, if you want to do it! Love- Rogan x