The Matchbox Diary by Paul Fleischman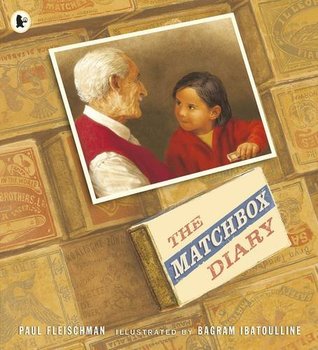 This is a children's picture book with a truthful historical aspect to it. I don't like to label this as a children's book, however, as I thoroughly enjoyed it as a not-so-much-a-child. This is an everyone book. Unfortunately there are no quotes from this book for me to include in this post.
This is about a grandfather who kept a diary through items in matchboxes telling his great grand-daughter he just met about those items and revealing his story in the meantime.
"Pick whatever you like most. Then I'll tell you its story."
When a little girl visits her great-grandfather at his curio-filled home, she chooses an unusual object to learn about: an old cigar box. What she finds inside surprises her: a collection of matchboxes making up her great-grandfather's diary, harboring objects she can hold in her hand, each one evoking a memory. Together they tell of his journey from Italy to a new country, before he could read and write — the olive pit his mother gave him to suck on when there wasn't enough food; a bottle cap he saw on his way to the boat; a ticket still retaining the thrill of his first baseball game. With a narrative entirely in dialogue, Paul Fleischman makes immediate the two characters' foray into the past. With warmth and an uncanny eye for detail, Bagram Ibatoulline gives expressive life to their journey through time — and toward each other.

(taken from goodreads)
I loved the illustrations in this book, they really added to the scenes and the meaning. Indeed, the stories, perhaps, told half of the story themselves. I also loved the way that things weren't too sugar-coated and there was some humour, some sadness and just a layer of truthfulness to the whole thing.
There was only one thing I didn't like. The first page started abruptly. I didn't know what was going on and I had to infer that the characters were meeting for the first time. Whilst this is not a problem for me, it might be for much younger children towards whom this book is supposedly aimed.
Nevertheless, this book was gorgeously put together and a lovely read that picked me up out of a reading slump instantly.
To buy this book on amazon.co.uk click here. (£6.99 or US $10.91)- paperback only
To buy this book from amazon.com click here. ($11.87 or £7.61)- hardback only